Embark on an Uncorked Wine Tour Today
Uncorked Tours is proud to present our most popular tour. Learn more below or book your Temecula winery tour today!
Enjoy One of the Most Beloved Temecula Activities
If you're looking for the perfect way to enjoy all of the best wine in Temecula, look no further than Uncorked Wine Tours! Our four-hour tours are designed to provide guests with plenty of fun. This is our most popular tour, hands down.
Learn more about what you can expect below, figure out a time to come, and book your tour today. Have a question? Don't hesitate to contact us.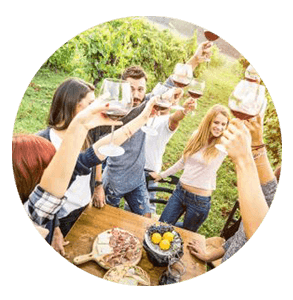 Uncorked Tours Proudly Offers:
Daily Group Tour:
Wines of Temecula Tour Normally $179 per person…NOW AVAILABLE FOR $94 per person!
This is the most popular tour with the highest value! A perfect sampling of Temecula Wine Country!
The four hours of fun include:
An escorted wine tasting tour via our gorgeous modern limousine party coach or limousine (actual vehicle subject to availability and group size)
Three winery stops included with five to six tastings per winery (winery selection/reservations are pre-made for our group tours)
Champagne or mimosas served aboard the limousine (sparkling cider may be requested)
Light appetizers and water are also served aboard !
The Certified Wine & Spirit Tour Guide is there to go over wine facts, history, take care of your purchases, and snap 50 plus photos throughout your outing (posted to our Facebook page for free) !
Please contact us for current pick up and drop off dates.
Promotional ticket is non-refundable, amount paid remains valid until redeemed, promotional value expires one year from purchase date. Gratuity not included. Parties of four or more require pre-paid gratuity at time of reservation. Promotional tickets require upgrade fees for holidays, holiday weekends and the balloon and wine festival.
Wine Tours can be booked Thursday - Sunday, If Interested in booking a party of 6 guests or more during our non scheduled wine tours, please call into the office to see if we are able to accommodate your request! .
IF BOOKING FOR A WEEKDAY : PARTIES MUST BE SIX or MORE GUESTS
IF WINE TOUR IS BOOKED FOR LESS THAN SIX GUESTS ON THE WEEKDAY , THE TOUR MAY BE RESCHEDULED OR OTHER FEES MAY APPLY
Daily Private Tour:
A custom itinerary is put together for you by our wine country expert
Private hosted transportation via a stretch limousine or limousine party coach
Photos taken throughout your outing and mailed to you on a high resolution DVD
Custom pick-up/drop-offs
Quotes vary on inclusions and are completely customizable to your budget!
Have Questions ? Call us at 1.888.400.7641
or
Email us at : temeculatourinquiry@gmail.com